Versatile cooking and chilling
The BE-1's multiple cooking functions enable a chef to make the best use of recipes and food combinations, so that maximum productivity can be achieved at all times. As well as simply chilling produce, the blast chiller also facilitates steaming, deep-freezing, freeze-drying, leavening, smoking, pasteurising, preparing yoghurt, roasting, cooking whole chickens, reusing food, braising, grilling, bread making, defrosting, cooking sous-vide, and more.
The BE-1 can also be configured in three different ways, making it adaptable to any workspace or chef's requirements.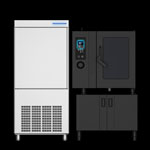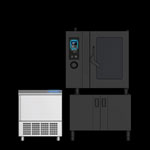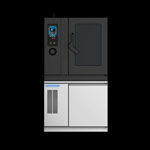 We designed the BE-1 to make a chef's work as easy and trouble-free as possible.
We came up with the idea of a control panel that a chef could use to manage two different appliances, such as an oven and blast chiller. The resulting design, the BE-1, is truly impressive: fast, easy to use and with all the controls at eye level.
Our design also allows plenty of room to accommodate baking trays, and includes non-obstructive doors with same-side opening, so you'll never have to rotate them.